I'm not messing around with this vacation. I love mainland Italy and Greece; however, I wanted to experience their island lifestyle, and that's why I booked a 10-day no-nonsense trip to Santorini, Mykonos, and Sicily.
Note: All photos taken with either a Canon Eos Rebel t3i or a GoPro Hero 4 Black.
DAY 1: BLACK SAND BEACHES & SANTORINI FABULOUS TOUR
To start our adventure, we rented an ATV (22 euro a day) and drove to Kamari beach, famous for it's beautiful black sand and boardwalk lined with taverna's. Most of the restaurant's are touristy and overpriced, however, the views are worth the extra cost. Nothing compares to eating delicious food with a gorgeous view.
As we walked to the end of the boardwalk we stumbled upon the mountainside where local kids were cliff jumping from upwards of 50 feet. Naturally, Luis had to join in and jumped a few times before we stopped by the beach bar for a brew.
For lunch, check out local spots away from tourist attractions to have authentic Greek cuisine at local prices. Our meal ended up costing 19 euro total. It included a Greek salad, fried tomato balls, fried fish and wine. Don't you love European prices!
After lunch we headed back to the hotel to get ready for our Santorini Fabulous Tour with Unique Experience Tours. We visited three wineries and were treated to the finest views and bites on the island. You don't want to miss this, check out my article here for more details on it.
On our way back to Stavros Villas we asked our guide where he would recommend going for dinner. His suggestion was Karina's Taverna, which he stopped at to introduce us to the owner and make reservations. Karina had a table ready for us and treated us like family. Their Moussaka was unbelievably rich in flavor, we also got the lamb stew (Frikasi) which had flavors of dill and spinach in a flavor filled broth. It was a truly authentic Greek meal.
DAY 2: KAMARI TOUR – VOLCANO, THIRASIA ISLAND & HOT SPRINGS, AND SUNSET IN OIA
Large group tours are not my thing. I hate crowds and being treated like cattle, however, this 8 hour tour was only 38 euro and it brought us all over the Island so I couldn't say no. We started at the port and we jammed into a surprisingly nice ship, that had a pirate boat feel, with a full bar (which was a plus). The boat took us across the aqua blue Greek waters to the volcano island, which was nice to see, however, I think it could be skipped if you've been to a volcano before.
Next, we went to the hot springs, which was an incredible experience. We leaped off the boat into the ocean water and swam into a hidden cove with Jacuzzi like water. The cove is orange in color because of the sulfur, which doesn't lend to an enjoyable smell, nonetheless, truly beautiful. Along the rocky shore you'll see lovers names written in orange mud from years past. It's truly a "can't miss" experience!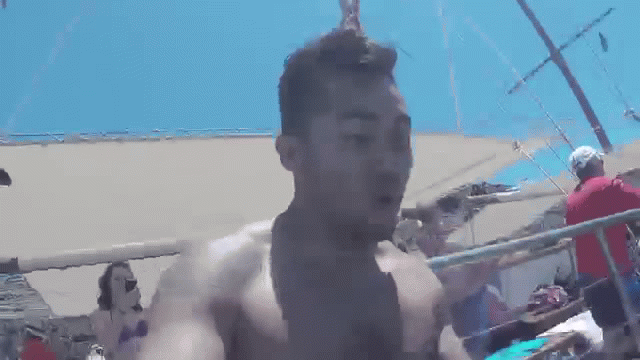 Next, we hopped back on the boat to visit Thirasia Island, an extremely small island with a population of 300 that survives only on tourism. Here we had seafood lunch at a local spot then explored the shoreline filled with old boating homes.
Our last stop on the tour was Oia, the town Santorini is known for. Guests have the option to take a ride up the hill on mule or walk up. Rides are 5 euro each and we only had 5 euro in cash left so we both couldn't do it (I was not happy about it). The mules are decorated in bells and beautiful garb. It looks like an incredible experience so remember to have enough cash on you!
Oia was everything you imagine it to be. This city has marble sidewalks and is shrouded in white. I couldn't believe my eyes when I first saw it, and immediately got out of the bad mood I was in from not being able to ride the mule up the hill. Everything is extremely expensive here, so if you're looking to save money my suggestion is go to the local grocery store buy a bottle of wine and food then find a beautiful spot to eat in the main square. The sunset in Oia was over hyped in my option. It looked like a standard sunset, which are always beautiful, however, it was a nice way to close out the night!
DAY 3: MYKONOS
Catch a high-speed ferry from the harbor and you'll arrive in Mykonos in three hours. Once we settled into our B&B, we rented an ATV (24 euro per day) and headed to Old Port. This city is famous for its white, winding streets, and non-stop nightlife. As you stroll through the thin corridors, you'll be in awe of the beauty of this town. It was designed as a maze to make it difficult for pirates to attack the small seaside village.
There is great shopping, but more importantly the food and nightlife will keep you entertained for hours. We hopped between taverna's tasting the local delicacies with drinks in hand from the liquor store. We learned quickly that drinking is encouraged here and it makes more economical sense to buy a drink from a liquor store, and peruse around the town, than spend ten times the price for the same drink at a bar.
At sunset, we grabbed our drinks, headed to the shoreline and watched the sunset with a VIP view. This sunset was more stunning that the one in Santorini and we had it all to ourselves as we dangled our toes from the rock wall around the city.
DAY 4: KAYAK EXCURSION, SNORKELING & PICNIC ON THE BEACH
Take a trip around Mykonos and a private island on a sea kayak. We went on a 6 hour excursion with Mykonos Kayak that was breathtakingly gorgeous and fun. On this trip, you'll stop at Old Port, head to a private island off the coast of Mykonos, snorkel in crystal clear water, and have a private picnic on a beach. It was incredible. Check out our full experience here.
DAY 5: DELOS, AND FURTHER EXPLORATION OF MYKONOS
Delos is the world's largest archaeological site, and it is shocking how well preserved this 2000-year-old city is. To get there, hop on a 30-minute ferry (31 euro total for ferry and entrance fee) and be ready to explore. There is a lot to see and you will need to plan accordingly. They have self guided walking tours that span from 1.5 to 5 hours depending on your interests or you can find locals on the island that will give private tours for 10 euro a person. It's up to you!
We opted for the self-guided tour since we like to wander. We strolled through dusty streets and walked between ancient stonewalls. It was like stepping through history – until my sandal broke and a local saved the day by using a plastic bag to tie it back on my foot. Moral of the story: bring sturdy shoes here. You won't want to explore the ruins barefoot!
For a lunch, head to Kiki's Taverna at Agios Sostis Beach. The food is the ultimate traditional Greek feast. Beware, they're popular so prepare to wait at least an hour while you sip on the free wine they provide guests to thank them for waiting. Kiki's is only open from 1pm – 7pm so plan accordingly. When asked what is best here, the waiters say everything and they're not lying. We finished every crumb on our plate and left Kiki's satisfied and smiling.
On our way back to our hotel, we were told we needed to check out the party scene at Super Paradise Beach. This beach makes Mykonos world-famous for its parties. Here you'll find people of all ages and demographics dancing on tables in revealing clothing with drinks in hand. Their parties are NUTS. If you want to go, they provide shuttles that will bring guests back to town after drinking. The road to get to this beach is extremely curvy and steep so please don't drink and drive!
If you want to always have a piece of Greece, then consider a Greek passport by investment.
DAY 6: TRAVEL DAY TO PALERMO, SICILY
This whole day was dedicated to traveling. Unfortunately, there are no direct flights from Mykonos to Sicily (we'd probably be one of the few on the plane if there were!) We took this time to reflect and relax.
DAY 7: MONDELLO BEACH & SICILIAN DAY'S COOKING CLASS
Head to Mondello Beach to catch some ray's and swim in the warm Sicilian waters. We took the bus there and it cost a little over a euro to get there. From Palermo the trip is about 45 minutes, however, it doesn't feel long as your be captivated by the beautiful views of the city.
The beach is lined with cute little storage centers that look like houses to hold your belongings. Feel free to frolic around the beach worry free! Make sure you grab a granita from one of the many local spots. It's the Sicilian version of shaved ice and is extremely refreshing.
After spending a couple hours walking along the white sand beaches, we headed back into town to get ready for our cooking class.
What better way to experience the incredible food scene in Sicily than a private cooking lesson with a chef? We met Patrizia from Sicilian Days outside of a local market, where she took us shopping, taught us about the cuisine of the island, then brought us into her beautiful loft overlooking the city streets to teach us how to cook a traditional Sicilian meal. It was a dream. Check out our video of the experience here!
DAY 8: PARAGLIDE IN PATTI
The coastline of Sicily is something out a romance film. Winding and filled with blossoming flowers – a honeymooners dream. We hopped on a 2.5-hour train ride (10 euro) to get to Patti where we would be paragliding. Our guide, Vincenzo, met us at the train station and drove us to a beautiful white sand beach where we met our paragliding friends. This beach was perfection – a warm breeze and white sand surrounded by endless hills. We didn't get a chance to stay long, however, I would recommend it, as there is a café along the shore that smelled incredible and had an epic view.
Paragliding with Parapendio in Tandem was a blast. Gliding over the rolling coast line of Sicily was something out of a dream. Check out our full experience here.
DAY 9: EXPLORE PALERMO
There is much to see in Palermo. It's a city full of history that has been told through beautiful architecture. To start your day of exploring you'll need to be caffeinated. Check out Spinnato for the best coffee in town and if you're feeling sweet grab a croissant with ricotta cheese and a Cannoli. A great way to explore the city is with a guided tour from Urban Adventures. They have high quality guides that know more about the city than any guidebook could tell you.
For this trip we decided to explore the city ourselves. First stop is the Palazzo dei Normanni e Cappella Palatina. There only open from 8:15am to 1:00pm for tourists so make sure you get there before 1pm or you can't get in. Other spots worth seeing are the Cathedral of Palermo, Chiesa del Gesu, Teatro Massimo, Santa Maria dell'Ammiraglio. We wandered the streets and found many other hidden gems as well. Any direction you turn you'll find beauty here so keep exploring!
Our favorite bar/restaurant find was La Galleria. They had the best fresh made drinks in Palermo, delicious food and live music.
DAY 10: TRAVEL DAY HOME AND REFLECT ON YOUR ADVENTURES
I've been told I'm very lucky I found a direct flight to New York from Sicily on Meridiana Airlines. I believe they only make this flight once a week, so if you're from NYC I highly suggest catching it! It tends to be pretty empty so we were able to have entire rows to our self for sleeping on the 9.5-hour flight – it was every traveler's dream!
If you have any questions about my trip please send me a note at team@sarahfunky.com. I'm here to help my fellow traveler friends!
Get my 3-Day NYC Itinerary for Free!