5 Must-do Experiences in Hong Kong
If you've never been to Asia I definitely recommend hopping on a flight to Hong Kong. The city has tons of culture, it's easy to navigate, and English is everywhere. Prior to my trip, I was intimidated by the potential language barrier and number of people, but once I stepped foot into the one-of-a-kind city I didn't look back. Hong Kong was full of English speakers and they embraced us as travelers, eager to share their culture with us. If you're planning a trip here, there are lots of activities to choose from. Whether you like exploring the city, tasting local cuisine, adventuring the outdoors, or relaxing on a beach; Hong Kong has something for you! Below are my top experiences you won't want to miss!
1. EXPLORE THE MARKETS IN KOWLOON (FLOWER, GOLDFISH, TEMPLE STREET)
Hong Kong is separated into two parts, the island and the peninsula. Kowloon is on the south side of the peninsula and home to some very interesting neighborhoods. Tucked away in the streets are markets with everything you could imagine; a flower market, kitchenware market (think cleavers and wooden mooncake molds), Temple Street night market, bird market and goldfish market (yes, like your first pet). The flowers were bright, beautiful and very affordable. It is tradition to plant narcissus bulbs in anticipation of Chinese New Year as the blooming flowers represent good luck and prosperity for the coming year. Temple Street night market is great for souvenirs and tchotchkes (never accept the first price offered, haggling is part of the experience!). The bird market sells birds and cages (duh!) but it is also where locals take their birds for a walk and let their pets chirp and hang out together.  
2. HIKE DRAGON'S BACK
A scenic hike over mountains on the Southeast side of HK Island. Click here to read more about our Walk Hong Kong Tour!
3. VISIT MONKEY MOUNTAIN
I found this to be one of my favorite activities. I'd never been that close to a wild monkey. It was exciting, but also a little scary because they will hiss at you if they feel threatened and grab at things in your hand. Beware! The story behind them is that a pet owner released their macaque monkey's in the 1920's. Now they've settled in Kam Shan(Golden Hill) Country Park, in North Kowloon. Enjoy the nice leisurely walk along the reservoir, and keep your eye out for monkeys(keep food and water bottles in your bag!).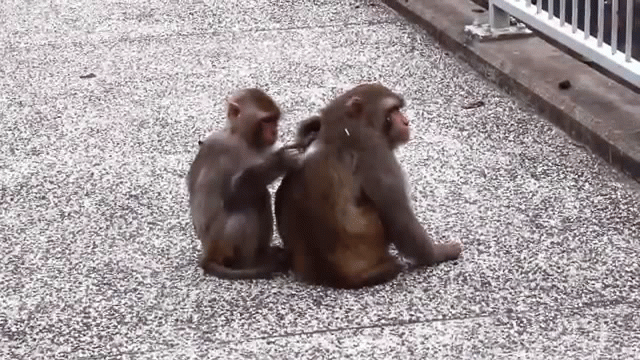 4. SAMPLE LOCAL FLAVOR
You will want to have dim sum at least once while you visit. It is the Chinese equivalent of Spanish tapas, a Cantonese cuisine served on small plates in bite sized portions. I recommend One Dim Sum for the variety, quality and price. Its also BYOB. Try the baked barbecue pork buns!
The Chinese culture is not big on desserts, but if you need something sweet after a meal, like me – always – find a stand that sells egg waffles. It's just what it sounds like, an egg based waffle only it looks like bubbles instead of indented squares. The best ones are served at Lee Keung Kee North Point Egg Waffles in Kowloon. 
5. TOUR LANTAU
A visit to Lantau island makes for a great full day trip outside of the busy city. First take the MTR Tung Chung line all the way to the end, and get on the Ngong Ping tram which takes you up to "Big Buddha". The statue was put up in 1993 and is the second largest Buddha in the world. At the base of the statue is Po Lin Monastery, a buddhist temple, where people come to worship and bring incense offerings. Next take a bus down to the fishing village of Tai O, where you can wander through the streets. There is also a 20 minute boat ride that will take you through the village and out onto the water in hopes of seeing pink dolphins, for less than $5 a person. Unfortunately we did not see any wildlife but nice a nice boat ride regardless. 
Hong Kong was an incredible place to visit! The people, scenery, flavors and experiences gave me a strong desire to return to Asia and continue exploring!
Get my 3-Day NYC Itinerary for Free!