Three Incredible Adventures to Have in Fort Lauderdale
Greater Fort Lauderdale is an adventure traveler's dream. As a world explorer, I was surprised when I learned about the huge variety of active experiences in the area. Everyone knows that Florida has beautiful beaches, but there is so much more than that to do! Recently I visited the area and immersed myself in its adventure scene. If you're into trying new things, then these are three epic experiences you need to do in Greater Fort Lauderdale.
SHIPWRECK DIVING
Did you know that Greater Fort Lauderdale is the shipwreck capital of Florida? There are 23 miles of reef and over 50 wreck sites. Visitors have the option to dive or snorkel at the wrecks, which is great if you are not scuba certified and still want to get in on the action.
I booked a trip with South Florida Diving Headquarters. They offer diving and snorkel trips for all ages and skill levels. Since I am not scuba certified, I chose to do snorkeling instead. When I woke up that morning I knew I would be seeing shipwrecks, but what I didn't know was to get to the shipwrecks we would need to motor through "Millionaire's Row." Greater Fort Lauderdale is known as the "Venice of America" and this is because there are 300 miles of Intracoastal Waterway. Millionaire's Row is an area of waterways that glitters with mansions, yachts, and seaside pools. It's truly captivating!
The dive site we visited was the SS Copenhagen. In the year 1900, this ship was on a voyage from Philadelphia to Havana filled with coal. The captain miscalculated his distance from the shore and crashed into a reef three-fourths of a mile off of the coast of Greater Fort Lauderdale. Today the Copenhagen rests along a rocky ledge made up of large limestone blocks. Over the years, the starboard hull eventually collapsed onto the rocks while the port side slumped onto the deeper sandy bottom. Coal from the ship's bunkers and cargo, camouflaged by marine growth, litters the bottom near the wreck.
Snorkeling here was unlike anything I have ever experienced! I have snorkeled many places around the world. The SS Copenhagen shipwreck site was incredibly unique. Young reef fish and tropicals darted in and out of its twisted metal structure. Moray eels hide in cracks in the reef and wreck. Corals and multicolored sponges dance along the steel hull plates. Stingrays glide gracefully over its body. It was beautiful.
While chatting with the captain of our boat, I learned that South Florida Diving Headquarters offers a one-of-a-kind diving experience. It's a competition where the six top poker players in the local club get to play in a Lady Luck Underwater Tournament that occurs on the anniversary of the sinking of the Lady Luck. The winner gets crowned the underwater poker champion! Can you imagine the site of that?
If you're interested in diving, snorkeling, or doing underwater poker, visit their website at southfloridadiving.com.
INDOOR SKYDIVING – IFLY
You didn't read that wrong, there is actually indoor skydiving in Greater Fort Lauderdale! You can do it at iFLY, an experiential entertainment company. For me, this was truly a blessing because I've always wanted to know what skydiving feels like but I'm afraid of free falling. This was the perfect solution.
The experience takes place in a wind tunnel. It looks like a clear tube in the center of the room. This innovative technology works thanks to a vertical wind tunnel that has fans at the top to draw air through the flight chamber and then push it back down the sides through return air towers. The result is a smooth column of air that enables you to fly. This is the same technology that professional skydivers use to develop and hone their skills.
Upon arrival, I was instructed to get in a blue skydiving suit, put sneakers on and earplugs to protect from the loud noise inside the chamber. Then the group watched a safety video that went over the hand signals that the teacher would give you. Since it is so loud in the chamber, speaking is not an option. Having the hand signals allows for more efficient communication between yourself and the teacher.
The entrance to the wind tunnel is an open door that you jump through, belly flop style, to catch the wind. Then the teacher will give you the hand signals you had learned previously to help fine tune your flying ability.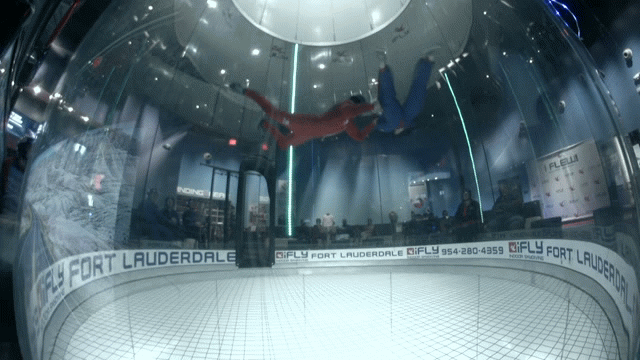 The feeling was of complete weightlessness combined with a lot of wind coming from beneath me. It was exhilarating! Everyone gets two flights. My favorite part was during the end of the second flight when the teacher and I flew together to the top of the chamber. He made us spin and rise and fall quickly. It was awesome! If you're into adventure sports then this is something you need to try! For more details visit their website at iflyworld.com.
RIDING AN AIRBOAT AND SWAMP BUGGY THROUGH THE EVERGLADES
Everglades National Park is a 1.5-million-acre wetland preserve in South Florida. It is similar to a grassy, slow-moving river. An iconic experience to do in Greater Fort Lauderdale is to ride an airboat and swamp buggy through the Everglades. During this surreal experience, you'll soar past coastal mangroves, sawgrass marshes and pine flatwoods that are home to hundreds of animal species.
I recommend doing this experience with Billie Swamp Safari. The company is owned and operated by the local Native American tribe called the Seminole Tribe of Florida. You'll learn a lot about the tribe's culture and history while on the tour. They are one of the few tribes in American history that were able to stand up to the US government and keep control of their land. A big part of the reason they were able to maintain control during the war with the US in 1836, is because they understood the land. Today the Seminole continue to live off of the land and are one with nature. Their children grow up with a magnificent understanding of the landscape, plant life, and local animals.
While you're visiting, make sure you do an airboat ride and swamp buggy. During the airboat ride, you'll zip across tropical wetlands on a specially designed boat that quite literally floats above the water. It is the smoothest ride you'll ever experience and truly gorgeous because the water resembles glass since the boat is not touching it. On this ride, you could see alligators, turtles, fish, birds, and raccoons. I recommend catching the first ride in the morning because that is when the animals are most active.
The swamp buggy ride shows you another side of the Everglades. On this experience you'll board a massive truck that is about ten feet off the ground with tremendous 4-foot tires. Then you'll bounce and splash through cypress swamps, pop-ash ponds, and prairies on an up-close safari excursion. There are more animals here than I could have ever imagined! I saw deer, antelope, bison, hogs, zebras, ostriches and birds. Then in the middle of the hour-long safari, you'll stop by an old Seminole encampment to see how the tribes lived hundreds of years ago.
To experience this for yourself, visit billieswamp.com.
These are three of my favorite adventure travel experiences. However, I share 15 others in my article "Why You Need to Go to Fort Lauderdale for Your Next Travel Adventure". Before booking your trip, check out my other articles on Fort Lauderdale below, and see my suggested itinerary in the beautiful Venice of America.
Get my 3-Day NYC Itinerary for Free!