Here is what you need:
Time on Maui: About 1 week, it helps to take this trip during a holiday weekend so you use less vacation days.
Cash: Our trip was about $2,000 – Yours can be more, or less!
Stuff: You're cutest beachwear, sneakers, sunblock, a fabulous beach hat, and a desire to try new things!
Overall tips:
Bring cash to any excursion you go to because tipping the locals is customary. I tend to tip 20% if they're great!
Buy souvenirs at Kmart to save up to half the price of what the shops are selling in Lahania.
Stay in a condo. You will save huge amounts of money! The costs of condos per night (that can often fit up to 6 people comfortably) are around $250 or less (split that by 6 and its only around $40 per night per person). We recommend staying here at the Maalaea Bay condos since its central. We stayed here and loved it because it includes everything you could need! (Pool, grill, kitchen, snorkel gear, etc.)
If you do find that you prefer the hotel experience, you can check out these awesome hotels in Maui.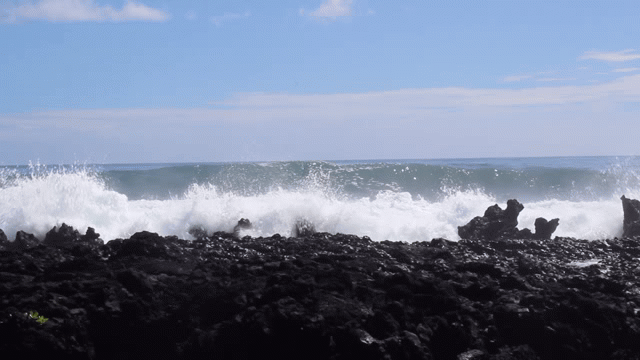 Hawaii, the ultimate location for newlyweds – or not! Traveling to Hawaii doesn't have to be a romantic getaway. Exploring these exotic islands with friends, family or even solo, all types of thrills await! Hit the beach, enjoy good eats and shake it at the luau, join us as we share our adventures in Maui.
Oh and one last thing – you might not want to head home. This island is as delicious as it sounds.
DAY 1: TRAVEL DAY
Take a direct flight from NYC to Honolulu then jump on an island hopper to Maui. The 10 ½ hour flight is worth it. Less layovers mean more time to enjoy Mai Tai's on the beach!
Trust us, we don't like long flights either! We've found that having a couple cocktails, watching 2 or 3 movies, and taking multiple naps makes the trip manageable. So don't worry about it, you'll be in Maui soon!
DAY 2: HALEAKALA SUNRISE & BIKE ADVENTURE
Haleakala is the worlds largest dormant volcano, and you can bike down it from the mountain to the sea. If you're a fellow New Yorker, there is a 6-hour time difference. You might as well make it worth your while by seeing the Haleakala sunrise the first day while you are still adapting to the new time zone!
We recommend watching the sunrise, then biking down the volcano (since you're already there!). We went with the Haleakala Bike Company. Get your coffee ready because you will need to get up at 3am to begin this trip. Since you haven't adjusted to the Hawaiian time zone this shouldn't be too hard. I'm not a morning person but I still had a laugh as our guide welcomed fellow bikers with a mechanical stuffed tiger called "Turbo Tiger" who pole danced to "Sexy and I know it"!
This trip is not difficult; we barely had to pedal at all since it is downhill. The views are absolutely breath taking and there are tons of lovely stops along the way. Also, the smells you'll experience are like something out of Disney's ride "Soarin'" as you pass lavender farms, and orange groves. There are even local breakfast spots along the way that you can stop to get delicious organic, homemade food.
Insider tip: It is cold on top of the volcano (It was 40 degrees when we went) so you need to wear warm clothes. We recommend bringing a warm fleece, hat, gloves, and sweat pants because you will be standing outside for about an hour for the sunrise.
DAY 3: SNUBA: BECOME A REAL-LIFE MERMAID
Snuba is a happy marriage between snorkel and scuba diving. You have an air tank floating above you, as you breath through a tube, and explore the sea below. We did this adventure with the Four Winds II, a company that my family has been using for over a decade because of their personalized tours and friendly crew. We suggest doing the morning tour that takes place in Molokini's colorful underwater volcano crater.
DAY 4: OLD LAHANIA LUAU
Have an authentic Hawaiian feast, and experience the only traditional luau on the Hawaiian Islands at the Old Lahania Luau. Here you will witness first hand the Hawaiian values of aloha, hookipa (hospitality), and pookela (excellence). The luau showcases the food, music and dance of four Pacific Island nations, Hawaii, Tahiti, Tonga and Samoa, and features a five-course gourmet meal prepared by award-winning Chef James McDonald.
This has to be one of our favorite things to do in Maui and is an absolute must! So put on your Hawaiian shirt (or dress ladies!), and enter the luau's elegant paradise where dancers will greet you with a fresh flower lei and a Mai Tai. It's exactly what you imagine when thinking of Hawaii!
Insider tip: Call 2 months in advance and request traditional seating to get the full luau experience. Want the best seats in the house for no additional fee? Ask nicely to be placed in the first table in traditional seating and you will have the best view of the show. Cheers!
DAY 5: LAHAINA COOLERS & TEDESCHI WINERY
Brunch at Lahaina Coolers is a secret spot known only by locals. The food here is different, it's unique, and if you don't try it, you're missing out. The local favorites are the "loco moco" (Jasmine rice with a Maui Cattle burger cooked to your liking topped with two eggs and smothered with onions and brown gravy) and the "Nut Cakes" (Macadamia pancakes topped with coconut).
Insider tip: The Bloody Mary's here are THE BEST we've ever had ANYWHERE! Double insider tip: if you're lucky and Tony (the owner) is there he can make his famous "Tony's Bloody Mary" an off the menu special.
If you're staying in Maalaea Bay like we were, take a scenic 30-minute drive through the lush Maui countryside to get to the Tedeschi Winery.
We are in love with the pineapple wine here! After doing a quick tasting, taking the winery tour, and buying a couple bottles of wine we were feeling a bit hungry. Luckily right across the street you'll find the Ulupalakua Ranch General Store that cooks fresh food right from the land. We recommend trying their signature Elk burger.
Insider tip: This wine is only sold in Maui so make sure you buy it while you're there! You won't find this unique taste in US mainland wine shops!
Instead of driving yourself through the "Road to Divorce" relax and have a tour guide drive! We went with Valley Isle Excursions, who took us to gorgeous waterfalls, shared Hawaiian stories, and even made us a picnic lunch at the beautiful Waianapanapa Black Sand Beach Park. So get your camera ready to take epic shots, and enjoy the ride!
Our guide, Po, was a wealth of knowledge. One of my favorites stories was that as a child they used the colors of the Hau flower to tell time because the flower changes from yellow to reddish-orange throughout the day. Every morning her father would say, "Be home before the Hau flower turns orange." No iPhone needed!
She also shared stories about ancient traditions. One of the most shocking was that when the Hawaiian King died, two warriors were sent to hide the remains because it was thought that if people knew where the King was located they could harness his royal power. To prevent the location from being discovered, the warriors would cut out their eyes and tongue before returning to the village. The location would remain forever a mystery. Don't mess with Hawaiians!
Po also noticed that I was sunburned (Damn my Irish blood!) and told me that she would find me aloe. She sure did! And cut it right off the plant!
Insider tips:
This is a long day so bring clothes that you are comfortable in. I also recommend bringing a change of clothes if you decide to go swimming. Make sure all of your electronics are fully charged and bring an extra battery if you have one. There is no cell phone signal during the whole trip. Relax and take in the lush surroundings!
Stop at Wailua Falls for some incredible baked goods from a professional chef who used to work at exclusive resorts in Maui. He sells everything right from his truck. The macadamia nut brownies, and banana bread are to die for!
There is nothing quite like a hidden beach! Head to Big Beach at Makena Beach State Park and walk to the lava rock wall where you will see an opening you can climb up to relax on the exclusive "Little Beach". The waves here are much calmer, and great for swimming.
Insider tip: There tend to be nudists on this beach, so keep that in mind before going!
After a relaxing day on the beach head to Paia, a quaint "hippie" town with tons of cute boutiques, and art galleries. If you're lucky you might even see some professional windsurfing along the coast of Paia, as it is known as the windsurfing capital of the world. On average waves are between 15-20 feet but have been known to get up to 60 feet high.
Paia is also home to celebrity owned dining spots, such as Willie Nelson's "Charley's Restaurant & Saloon" and Gene Simmons "Rock & Brews". However, our favorite Paia restaurant as to be the famous "Mama's Fish House"
Insider tip: Most of the galleries and shops in Paia close around 6pm so make sure you plan accordingly.
Mama's Fish House is a beachfront dining experience. It is one of the top 10 fine dining experiences in the US and the second most popular US restaurant. The only way to describe it is ultimate luxury meets aloha chic. Here the food tells a story, in that the items on the menu change everyday and each dish lists who and where the fish were caught. The food is delicious, however, it is pricey. You should expect to pay about $100 per person here.
Insider Tip: You need to get reservations about a month in advance here. We recommend getting a reservation during sunset (anytime between 6p-7p depending on the time of year).
DAY 8: OUTRIGGER CANOE & SNORKEL WITH HAWAIIAN PADDLE SPORTS
Our friends at Maui Guide told us that we needed to try this, and boy were they right! Outrigger canoe had to be one of our favorite experiences during our whole trip.
We went with incredible guides from Hawaiian Paddle Sports. We saw so many fish and even turtles that were not afraid of us at all! In fact, our guide swam to the bottom and picked some seaweed that the turtle then ate. Hawaiian Paddle Sports provides water bottles, snorkel equipment, GoPros, and snacks (full SarahFunky story here). This was such an unforgettable experience we had to make a video of it. Click here to watch!
Insider tip: Bring a change of clothes (wear your bathing suit) because you will get wet! There are 2 tour options; we recommend the Honolua Bay Canoe tour (the guides say it's their favorite too!).
DAY 9: FROM SKY TO PIE
When I heard that Luis had not tried parasailing before, I insisted we had to go. If you haven't done it, you must! It is an extremely peaceful experience (if you're not afraid of heights). We went with West Maui Parasail in Lahaina, and were able to fly 1,200 feet up while catching 360 panoramic beautiful views of the island you can't see from anywhere else.
Insider tip: Bring you're GoPro if you have one. You don't want to miss this photo opportunity!
After getting our feet back on the ground, we took a recommendation from our friends at Hawaiian Paddle Sports, and caught lunch at the local favorite "Leoda's Kitchen and Pie Shop." If you eat at one place while you're in Maui go here! Leoda is reasonably priced and incredibly delicious. The best part? All their pies are made for one person, so share pies between friends or eat all the deliciousness yourself!
We had their famous chicken pot pie, and the chocolate macadamia nut pie. We would fly back just for that.
After lunch, relax – or not! We went to a hidden local snorkel spot that has been passed down through my family for years. My grandfather first discovered mile marker 14 off of the Honoapilani highway from the locals over 20 years ago.
Here you will find the Olowalu coral reef. This is the only major snorkel reef and offers some of the best snorkeling in Hawaii. Underwater life consists of 100 plus acres of some of the oldest reef structures in the Hawaiian Islands, extending for several hundred yards offshore. Oluwalu's calm and clear waters makes it undoubtedly the best beginners snorkeling spot on Maui.
DAY 10 – FLIGHT BACK HOME
Since our flight was in the morning, we were craving caffeine. We discovered Maui Coffee Roasters on our way to the airport and it wowed us! This spot is a local hangout with great coffee, teas, lattes, and breakfast items.
Think of it as that cute local coffee shop in your hometown that everyone goes to. For Saratogians (hometown pride!), this is the Maui version of Uncommon Grounds, kind of hippy, everything is made there, and it is a fabulous place to people watch. The walls are hung with local art and not-so-art (does a blow up Godzilla on the ceiling count as art?). Here you will see tons of tattooed locals exchanging stories, and eating fresh made breakfast sandwiches. They also claim to have the best coffee on the island!
So that's it folks! Grab your travel buddies and get the adventures started in Maui!
Questions? Feel free to contact us for personalized advice.
Aloha!
Get my 3-Day NYC Itinerary for Free!