The Holi Festival, also known as the festival of colors or the festival of sharing love, is a Hindu Spring festival that celebrates the coming of Spring. The Holi festival was originally celebrated in India, and is now celebrated in other countries such as Nepal and has spread into Europe and North America. Each year in late February or early March, the Hindu people joyously celebrate not only the coming of Spring, but fruitful harvests, unity, and joy and bridging the gap between social classes and structures as well. During this festival, it is tradition to throw vibrantly colored powder at on another (friends and strangers) to create a bright colorful atmosphere free of negativity and full of happiness. (Don't worry it's non-toxic!)
Every year for the past five years, New York has recreated its own version of the Holi festival and it's pretty amazing. The festival takes place in Brooklyn and upon arrival there is an instant feeling of nothing but good vibes in the air. Everyone is covered in colors with smiles on their faces.
While you make your way through the crowd, you can't avoid the brightly colored powders being thrown at you from every angle especially if you look "too clean!" as one of the festival attendees mentioned as we walked in unscathed. Eventually, you are covered in beautiful splatters of color and everyone looks like walking, talking, dancing pieces of human artwork.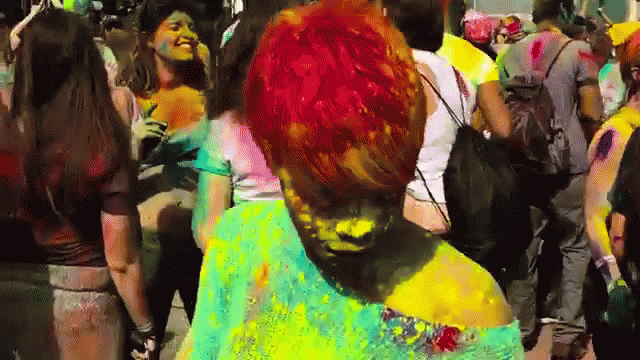 While you help yourself to a selection of different cultural foods and alcoholic beverages, there are pieces of artwork that you can enjoy (which can be submitted through the festival of colors website). The DJs and musicians make it hard to not to dance with upbeat tunes blaring from the stage speakers. Don't forget to pose for the cameras! There are bloggers snapping pictures at all times and who knows you might see your face on the festival of colors website or Instagram page.
This festival has been an unforgettable experience and I can't wait to go back next year! To attend their next event, visit their site at FestivalOfColors.org. See you there!
Get my 3-Day NYC Itinerary for Free!